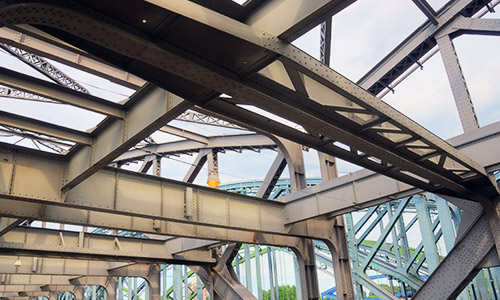 Building bridges with integrity starts with thorough, precise planning. Finney & Turnipseed Transportation & Civil Engineering, L.L.C. is proud to have a proven track record of bridge construction engineering in Topeka and Shawnee County, KS, producing sound designs that stand as a testament of our work still today.
Bridge engineering is one of our core specialties and we're proud of our expertise when it comes to planning and designing bridge systems of all types. Some of the most common types of projects we work on include:
Box culverts:
We design box culverts that enable proper land access on both sides of a waterway, without disrupting the conveyance of that stream or river. We can design culverts for a variety of applications through our bridge construction engineering.
Concrete slab:
Slab bridges are present throughout the Midwest and are a convenient and economical solution. We can plan for bridges over large expanses of river and underpasses.
Concrete beam:
Our expertise with highways and other municipal street construction projects has given us substantial capabilities when it comes to concrete beam bridges.
Pre-stressed beam:
Our bridge construction engineers have the capacity to work with pre-stressed beam bridge designs as needed, at any scale.
Steel beam/welded plate:
Steel beam and welded plate bridges exemplify our skill, with the Topeka Boulevard Bridge over the Kansas River standing as a prime example of our abilities.
Not only can our engineers work within a variety of building modalities—as evidence by our strong portfolio of results—we're also experts in navigating the many logistical challenges and barriers that come with each application.
For a truly encompassing approach to bridge engineering, starting with design, contact us at Finney & Turnipseed Transportation & Civil Engineering, L.L.C. today at 785-235-2394. Our bridge construction engineers are ready to help with land planning and more.